PR for Startups: The 10 Step Process I Use to Get Press (2018 Update)
How do you do PR for startups?
For starters, you don't hire an expensive public relations agency.
They cost you a ton of money – more than what you will spend if you build your own media relations[1]. They also cost you a ton of time that you waste explaining your product, service, story, and mission to the PR experts – without them being able to grasp the message in its entirety.
What's more frustrating? They also try to dissuade you from reaching out to top media people, highlighting why it can be tough for a small business owner, like you, to grab the attention of a big journalist.
In short: They can't get the job done. But you can and do it way better.
This translates into one action: STOP trying to hire the right PR agency and START doing press outreach yourself.
To do PR for Startups, use this straightforward process:
Nail your One Sentence Value Prop
Create a Contact List of Relevant Journalists
Find Email Addresses of those Journalists
Connect and Network with Journalists
Write a Banging Email Pitch[2]
Track your Email Pitches
Improve your Pitches based on Open and Response Rates
Follow up with the Journalists
Prepare your Site for Media Coverage
Perfect your Landing Page
Over time, the majority of startups realize that doing their own public relations saves them TONS of money, time and frustration plus gets better stories published about you.
The truth is that PR for startups is similar to building relationships with customers[3], its' important work which takes time and effort but has a HUGE ROI.
I've done my public relations for 13+ years, published 1400+ articles[4] and got a startup acquired by Google[5] by employing unconventional PR methods. These days I run a software company which helps businesses pitch journalists and get featured in press all on their own.
Why do I do this? Because I don't want startups to hire PR firms or just send a press release. I want startups to learn the skill of effective Public Relations themselves.
Each and every entrepreneur should find journalists who are interested in their story, on their own, instead of hiring expensive PR firms.
In this article I show you how to do your own PR for your own startup without having to use any tools except Google.
Ready? Let's roll.
Dmitry's take
This article will give you the info you need to do PR outreach and get press for your startup. The process is manual and takes a lot of effort and time (just like anything good in life!)
If you want to kick it up a notch and save time as you automate your PR outreach and learn how 5000+ business self taught themselves how to get featured in press, check out JustReachOut – our DIY PR tool which not only teaches you how to do PR outreach but actually allows you to do the outreach and get featured!
Implement this tactic right now with our software.
1. Nail Your One Sentence Value Prop
If you're learning how to build a strategy for your startup[7], your first step should be to figure out your value proposition.
What's that? A value prop is what you do that sets you apart from competing products. You should be able to answer what you do in 1 sentence. Use this template below:
My Company  <name> is developing <offering> to help <target audience> <solve a problem> with <a secret sauce>.
Courtesy of Adeo Rossi of Founder Institute[8] this template is pure gold. I've been using it for years. Just fill in the blanks and keep all the jargon away. Let's look at a few examples of one sentence pitches utilizing this template:
Soylent: Never cook another meal or buy groceries again.
Airbnb: Stay in other people's houses and apartments when traveling.
In both of these cases, you instantly understand what they do without having to think too hard.
Now let's look at the following:
We are a web analytics platform designed to give you business intelligence to close your next deal.
Umm, huh? What do they do?
When you are working on your one sentence pitch think about how a journalist is going to imagine themselves in the scenario you present with your pitch. Do they cook their food a lot? Can they imagine themselves never cooking again? How would they react to this? If you were in their shoes what would you say?
I recently listened to a great webinar from the guys at Digital Third Coast which quoted a great book Made To Stick: Why Some Ideas Survive, and Others Die[9] where they break down how to do PR for startups with the following questions: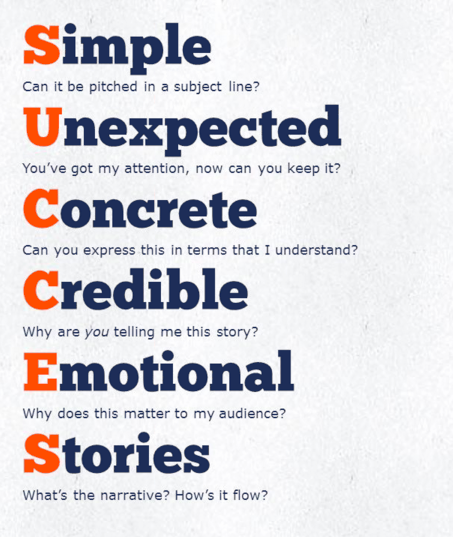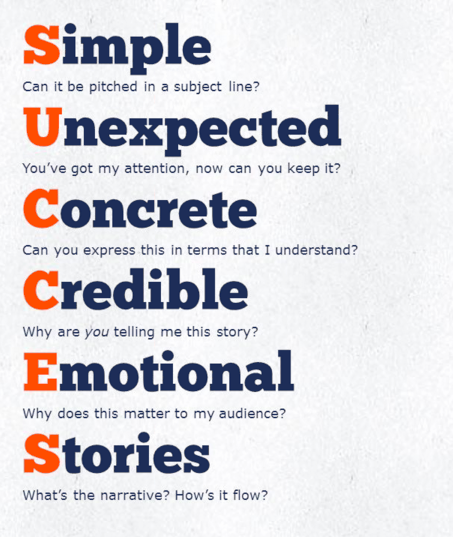 I like to adopt the one sentence pitch to the reporter I'm pitching, in other words not just:
"We're the fastest & easiest way to deliver anything to any location."
but  instead:
"You've tweeted about this before, sound familiar? Crap, you really need this package delivered by tomorrow, but you're stuck at work, and there's no way you'll make it to the post office in time. Enter X."
See how this story flows like water, and it's so easy to imagine yourself in this situation?
A great story sticks in someone's memory much longer than generic explanations of what you do. The longer you can stay sloshing around in a journalist's brain, the better the chance they will remember you when they plan to write a story about a related topic. Master storytelling and doing PR for startups will come naturally to you.
2. Create a Contact List of Relevant Journalists
In this step, you have to find reporters whose main beats include what your product/app/service does.