PR for Startups: The 10 Step Process I Use to Get Press (2018 Update)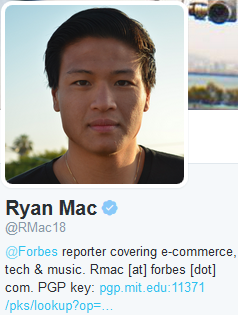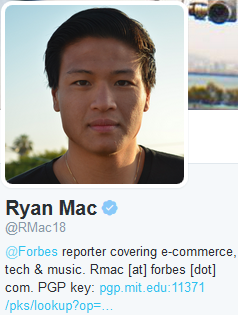 Keep in mind there are different types of media outlets and blogs, so you want to make sure you categorize each publication in your Google doc.
Here's the hierarchy of publications and blogs from most authoritative and thus toughest to break into to the least (courtesy of Austen Allred[13]). As you can see, at the very top of the press pyramid are mainstream media companies. Further down are industry and mid-tier blogs. At the bottom are personal blogs.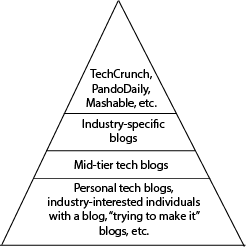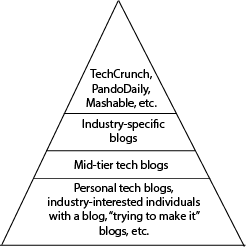 It is useful to categorize the reporters and media companies in your hit list so you know how hard it would be to reach them.
Quick tip: While we're talking about categories of blogs – do not exclude local media outlets from your hit list.
It is much easier to break into local media companies because the mere news of your firm is relevant for your local city audience. When figuring out how to do PR for startups, explain how the city stands to benefit from your product/service.
For example, your one sentence pitch about your brand might be modified in the following way:
Let's say you're a meal delivery startup, dig up a stat about how many restaurants in your city deliver versus how many that don't and make that part of your pitch.
OK at this point you have a HIT list in a Google Doc of 20 journalists containing the following information for each entry in your list:
Full name of the reporter
Date of the article
Link to the article
Link to the Twitter profile for the reporter
Any link to the personal website or blog for the reporter (if available)
Dmitry's take
As you can see this process take time and effort!
If you want to save time as you automate your PR outreach check out JustReachOut – our DIY PR tool designed to help you automate this very process I describe in this article. 5000+ businesses currently use us to get featured in press daily.
Implement this tactic right now with our software.
Next step is to find their email addresses.
3. Find Email Addresses of Journalists
Finding emails[15] these days is super easy.