PR for Startups: The 10 Step Process I Use to Get Press (2018 Update)
http://wistia.com/blog/snazzy-on-webcam/[38]
Curious to hear your thoughts about it. I think they made some great points, right?
-Signoff
Template 2: Typo in their article angle
Subject: Typo in your article
Hey X,
Respect your reporting a great deal. Love the stories you put out. [Insert a line about their latest article. For example, Crazy to think that there are more people using mobile vs. desktop now.] Saw that you have a few spelling mistakes in your recent article, wanted to follow up:
"The project, which was was announced"
"The content will be uses for The New York Times"
Looking forward to your next stories. Which article are you working on next?
-Signoff
Template 3: Implementing their advice
Re: Loved your article about radical honesty – here are my results after a week
Hey X,
I've been following your blog for the past 3 years, so many great insights!
Your recent post about radical honesty really resonated with me. I followed it step-by-step and I found it dramatically reduced my day to day stress levels.
You can read my post about it here: URL
If you're so inclined, I'd love for you to share it with your audience.
Thanks for sharing your can't-find-anywhere-else tips with the community.
-Signoff
Dmitry's take
Finding relevant journalists on autopilot is sometimes tough as you can see. Takes a lot of time to do the research.
We built JustReachOut – our DIY PR tool to help businesses automate this very process[39] I describe in this article. 5000+ businesses currently use us to get featured in press daily.
Implement this tactic right now with our software.
6. Track your Email Pitches
There are several tools to track your emails to see if the journalist has read your email or clicked on your link. My favorite is MixMax for Gmail.[41] It works like a charm and the free plan includes unlimited email tracking!
I can set the default setting to track all the emails I sent out. Or I can select the individual emails I prefer to track: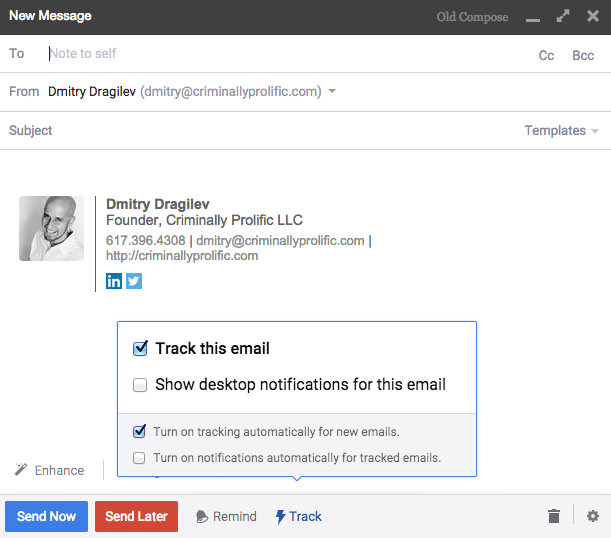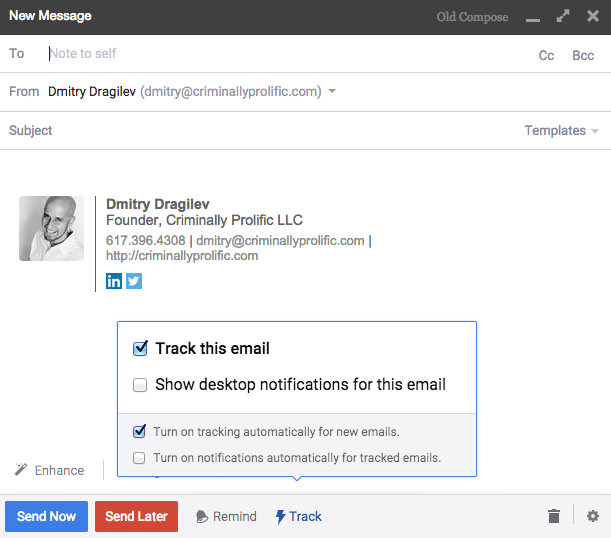 Email tracking is extremely useful when doing PR for startups. I can then just search for email or go to my sent folder to see if anybody has opened it or read it. The lightning icon with a number next to it indicates someone has opened it and the number of times they opened it: